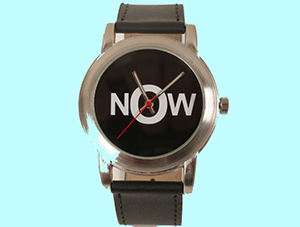 I stopped wearing a watch when I moved to Spain in 2002. Southern Spain is a place where everyone runs late, everything takes longer than it should, and every business closes from 1-5 P.M. (ish) for siesta. Since I had been living on the east coast my entire life, I did not fit in in this way. So I took off my watch with the intention of aligning with the Spanish flow. This was difficult for me, I'm not good at being late. In fact, it's only happened twice in my life. (I'm only slightly exaggerating.)
I actually get stressed out at just the thought of running late. To avoid this, I usually find myself waiting around because I arrive awkwardly early to appointments, meetings and events.
The Problem With Ditching Your Watch
Today, it's common for cell phones to replace watches. The problem with that is then we end up checking our cell phones 10 times more than we would if we had worn a watch. And when we check our phones, we are often sucked into the abyss of email, Facebook and whatever other alerts and temptations are calling to us.
I didn't even have a cell phone when I lived in Spain. But I did have a problem obsessing about time, so I found the change to be helpful. It's been 12 years since I took my watch off … but now I have a smart phone … and I'm beginning to wonder if the intention I originally had for ditching my watch still makes sense.
I was at the Wisdom 2.0 conference last week, and one of the speakers suggested wearing a watch to cut down on the time we spend on our devices. Kate Pickert, a writer who covers mindfulness for Time Magazine, offered it as a tip in her recent article about meditation.
I began to think I should get a watch.
The Decision-Making Process
I was a volunteer at the Wisdom 2.0 conference last weekend. I had a detailed schedule where I was supporting speakers, employees, and partners, which meant if I was a minute or two late, the whole conference may run behind.
Side note: If you don't know about Wisdom 2.0, you should check it out. This year's conference was focused on how we can live with awareness, mindfulness and compassion in the digital age. All of the videos from the main stage can be found online here. I especially recommend watching Eckhart Tolle, Arianna Huffington, Peter Deng, Jon Kabat-Zinn and Brother David.
I really enjoyed the role, but there I was without a watch, checking my cell phone every 5-10 minutes for the time to make sure I wasn't late. In the background, speakers debated the decision to wear a watch, and talked about the benefits of not checking our smart phones so frequently.
I found myself engrossed in one of the talks discussing the pros and cons of technology and devices. A few speakers noted how often we look at our phones … to find notifications about tweets, posts, texts, calls, emails … and the list goes on. How often is our phone calling to US in a given day? Are we slaves to our devices?
I realized it was close to the end of the talk. So of course I checked my phone, and sure enough, it was time to move and station myself in another room. As I headed out of the talk, I thought about the role my phone has to me. I don't like to be interrupted, so I don't even receive push notifications, and I always keep my phone on silent. Yet I still check it for the time. And while I'm checking the time … well, we all know how difficult it is to resist the temptation to check everything else, too.
The simple point several speakers made at Wisdom, was that by wearing a watch, we are less likely to check our phones. I know I'd benefit from checking my phone less often, so I think the verdict says I'm going to give it a try. I haven't had a watch in a dozen years. Any recommendations?
Simple Practice Options
Get a watch. Wear it daily. Enjoy less interruptions throughout your day.
Monitor how often you use your phone and try to limit usage little by little.
Choose windows of time each week to leave your phone behind. Obviously this should be a day where you are able to enjoy losing track of time and fully disconnect. Sunday afternoons work well for a lot of people.