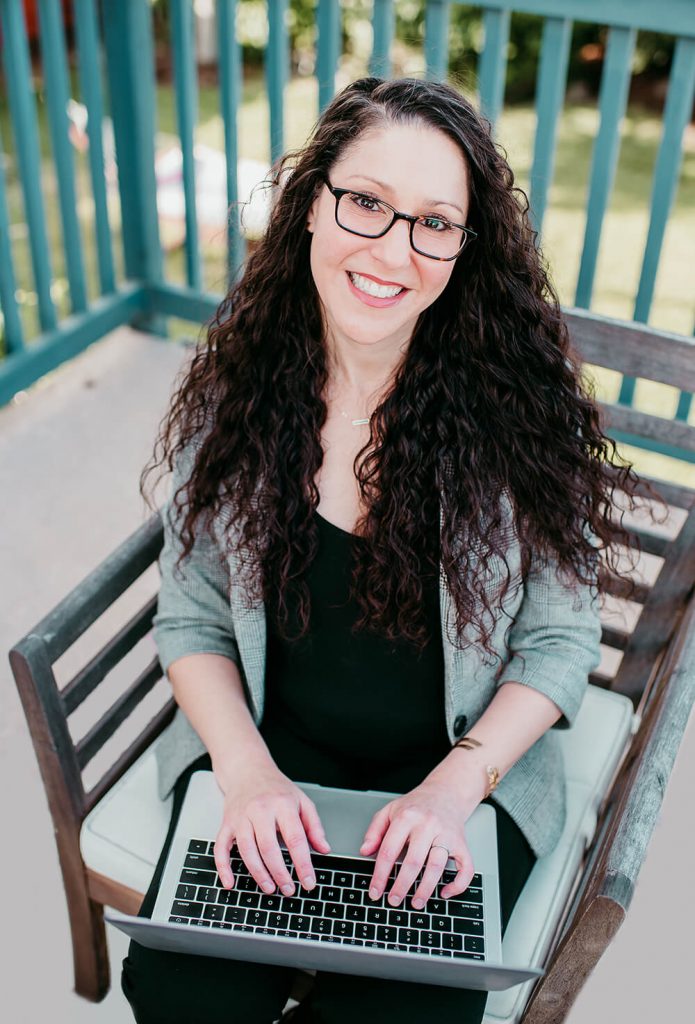 About This Blog
I started Mindful Minutes back in February, 2014 with the intention to share information that I'd learned — and continue to learn — on how to live a mindful life, despite having a demanding schedule and a type A personality. Since its launch, it's grown and evolved and so have I as a teacher, writer, and coach.
Through bite-size blogs with practical tidbits on how to keep calm in the midst of an overflowing calendar, I'm hoping the content on Mindful Minutes can help you slow down and find more meaning and stillness in your life. And I hope you have enjoyed learning about mindfulness and life balance alongside me. As I shifted my attention further toward leadership coaching, I started publishing my writing on my coaching website – visit www.WideLensLeadership.com to read my recent content.
About the Author
I was born and raised on the East Coast and my parents were New Yorkers. This means I learned how to be a type-A at an early age. After college and for 15+ years, I worked far beyond a full-time schedule in corporate America, managing a team of writers and editors. I learned to work on overdrive, to be ultra productive, to excel in my role … I also learned to get burned out.
Learning to meditate and practice mindfulness was a way for me to manage my burnout, anxiety, inner critic, and "never good enough" mentality. Eventually, I got certified to teach – I am a certified yoga instructor with the Yoga Alliance (E-RYT 200), certified meditation instructor, and have been teaching meditation, yoga, and mindfulness since 2011. In January 2016, I published the book, The Type A's Guide to Mindfulness: Meditation for Busy Minds and Busy People, which was a #1 bestseller on Amazon.
Leadership & Executive Coaching
When I was focused on teaching mindfulness, my students were primarily leaders and high achievers struggling with stress and overwhelm. This, along with my own experience working in leadership naturally led me into the world of leadership coaching. In 2016, I got certified as a professional coach by the International Coach Federation and Newfield Network. I also earned my Master's degree in Organizational Leadership at the University of San Diego.
As an ICF Certified Executive & Leadership Coach, I partner with leaders to develop their resilience, systems thinking, executive presence, and strategic communication skills in order to reach individual and organizational goals.
My clients are leaders ranging from C-suite to mid-level management, from Fortune 500 companies to startups, from global to local organizations, and across diverse industries. What my clients have in common is they are all high achievers who are open to investigating their blind spots and discovering new ways to reach and magnify success.
Clients and colleagues have consistently recommended me, citing me as a trusted and empowering coach, strategic and creative thinker, and direct and compassionate communicator. I am told I have a warm, motivating way of challenging clients and holding them accountable for designing and sustaining meaningful change. You can read more about what my past and current clients have to say about having me as a coach on my testimonials page.
I provide customized solutions for leaders and organizations. This approach includes assessments, feedback, and inquiry to generate insights and a development plan based on strengths, needs, and gaps. While the specifics of the approach look different for each leader, my clients and I always focus on integrating their states of "being" and "doing." When these two align, profound leaps in leadership become possible.
As Albert Einstein said, "The mind that opens to a new idea never returns to its original size." I couldn't agree more. I partner with clients to expand their perspectives so they can design new possibilities for action that will lead to more meaningful results. I have always been fascinated by human behavior, cultures, and the way people live and work around the world — with a focus on what we can learn from our differences. Traveling to 35+ countries has broadened my perspective; this expansive way of thinking influences my coaching style.
I have more than 15 years of experience in leadership positions in the corporate world, reporting directly to C-suite and leading large teams to achieve impressive growth amid organizational change. I've led teams during IPOs, mergers, acquisitions, and many phases of organizational change and challenge, which has driven my research and niche in supporting leaders through VUCA (Volatility, Uncertainty, Complexity, Ambiguity) times.
I blend my leadership experience with my education in organizational leadership and extensive background in mindfulness, to support my clients' growth through challenges and change. On a personal note, I have a passion for transformation and personal development. My own experiences and transitions through loss, careers, grief, and relationships have fueled a desire to step out of my comfort zone, overcome my fears, and search for meaning — and help others do the same.
I am certified as a professional executive coach by the International Coach Federation and Newfield Network. I am also a certified meditation and mindfulness instructor, registered yoga teacher, and enjoy leading workshops, trainings, keynotes, and retreats about mindfulness and leadership.
Specialties & Strengths: Executive coaching, leadership development, mindfulness & mindful leadership, experiential learning, leadership training & facilitation, team building, leadership coaching, resilience, group dynamics, navigating change and VUCA (volatility, uncertainty, complexity, and ambiguity), systems & strategic thinking, effective communication